I often consider how my behaviours are portrayed to those I coach and I'm curious as to how it impacts the players during every training session and match. Having done some reading and research, the literature surrounding the extensiveness of player motivations is exactly what coaches should consider when reflecting their own behaviours.
In the foundation and youth phases, the coach can be the second or third most influential factor in a player's daily life (Ehsani, 2012) – after parents and possibly teachers. Whereas in an elite environment, the coach is the single largest impactor on one's personality and behaviour, which is why it should be exceptionally critical for those in authoritative positions to review their practice and understand the subordinate's motivational needs. However, it can be difficult to challenge one's motivations as a coach can only do so much in the limited time we have with our players unless in an elite surrounding. At the grassroots level, parents are just as likely to influence one's motivations (Allen, 2006) which stresses another reason for communication within the coach-parent relationship.
Recent research does suggest that leadership styles (Soyer et al, 2014) can impact a player's feel of responsibility in that environment, and as a lead-on impact, can either positively or negatively effect motivation. However, do we as coaches know what the different types of motivation are? Do we understand our own players' motivations and why they continue participation in sport?
What is motivation?
Motivation comes in many forms and sizes, but the widely-accepted categorisation is through the Self-Determination Theory (Deci and Ryan, 1985) which explains the three steps to what is described as optimal motivation (Theeboom et al, 1995). These are amotivation, extrinsic and intrinsic – whilst the original theory does not describe it as a journey or process, I have adapted the Self-Determination Theory to my own group of players and ultimately to achieve long-term motivation to continue participation by ensuring my coaching behaviours suit their motivational needs.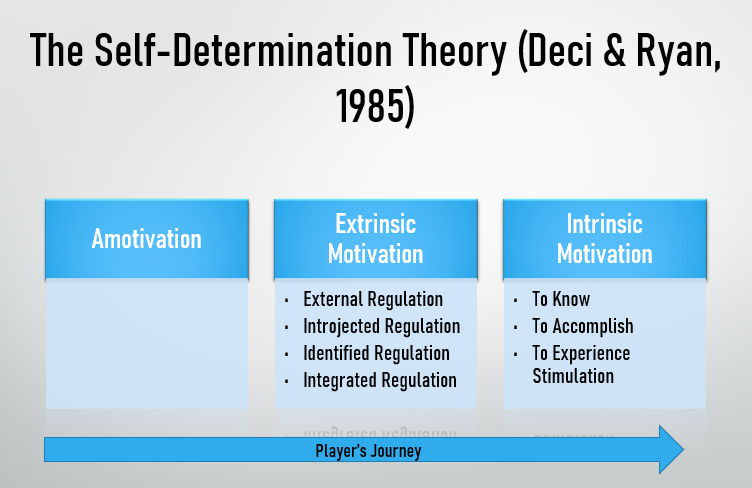 Amotivation is basically when your player does not have any self-determination to continue playing sport and begins to question their participation. This is why it is important to remember how we as coaches can alter ourselves to aid motivation development.
Secondly, extrinsic motivation is predominantly when there is the opportunity to receive reward for participating or avoid punishment; the coach (Deci and Ryan, 1985) often dictates how the environment works and player behaviour is the result of both external and internal pressures, which are causes of this type of environment. Within extrinsic motivation there are four sub-categories where player self-determination begins to play a larger role in one's own behaviour; external, introjected, identified and integrated. The latter is the optimal point in terms of self-determination in extrinsic motivation, when the coach has still has some say, but not as much, in controlling the players' behaviours.
The Self-Determination Theory lastly explains what I would describe as optimal motivation. Intrinsic motivation is when an individual will engage in an activity for the pleasure, enjoyment and satisfaction – not for the rewards – and if a person displays this then it is said they show signs of complete competence and self-determination (Deci and Ryan, 1985). Bartholomew et al (2009) outline how coaching behaviours can restrict the intrinsic motivation within their group and that is why I've identified it as optimal motivation within my own coaching philosophy – but it is important to remember every coach is different and therefore approaches to each group is often non-comparable. The reasoning behind my own motivation for writing this blog piece is to remind others in the industry to continuously understand and monitor their players' motivational needs.
There has been extensive research into the benefits of higher self-determination and intrinsic motivation . . .